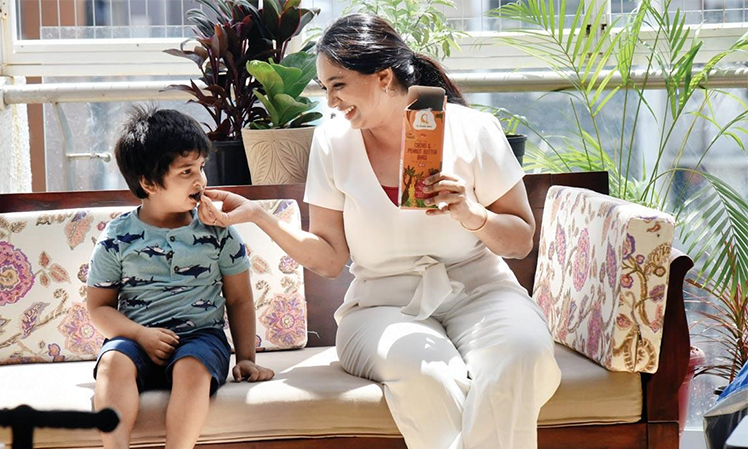 Hello! We're Here To Help Your Baby Grow Big And Strong.
Parenthood is a wonderful part of being an adult, but sometimes it's also stressful. Unlike professional life, parenting is a full-time job because a growing child takes almost all of your time, love, and attention. The Growing Giraffe makes life for parents such as you more manageable by taking care of one important aspect: making your child's snack time both nutritious and fun! This way, you worry less about how to satisfy your child's hunger pangs during snack time.
ALLERGY CONSCIOUS

While we do our best to ensure that every ingredient is good for your child's growth, we also use seeds, milk, nuts and other dry fruits. Do make sure to check the ingredients list on the box before feeding them to your child. Please make sure they are not allergic to any of the ingredients.

HAPPY SNACK TIME

Focus on spending quality meal time with your child and leave the stress of innovative snacks to us. You can choose from our range of snacks to suit your child's palate.

NUTRITIONIST APPROVED

Since babies and children favour sweet foods over savoury, we have cleverly packed all the ingredients needed on an everyday basis in the biscuits and nutrition bars that they love! All our recipes are co – curated with nutritionists, chef's, food technologists, and Rukmini herself.

HEALTHY SNACKS

Our healthy snacks are made with wholesome ingredients that provide essential nutrients for your child's growth and development. We avoid using artificial colors, flavors, and preservatives in our products. Also, low in sugar and high in fiber, making them a great choice for a healthy snack time option.
Our Combos
Regular price

Rs. 510.00

Sale price

Rs. 484.00

Unit price

per

Regular price

Rs. 1,590.00

Regular price

Rs. 1,682.00

Sale price

Rs. 1,590.00

Unit price

per

Regular price

Rs. 405.00

Sale price

Rs. 388.00

Unit price

per
HAPPY KIDDIES, HAPPY YOU
Introduce your child to delicious flavours, textures and ingredients with our range of healthy, nutritious snacks.
Our Testimonials
Soha Ali Khan

Currently Eating..Thank You.. The Growing Giraffe.

Actress

Shilpa Shetty

Thank you @ The Growing Giraffe.

Actress

Gabriella Demetriades

Ariks (and mine) new favourite snack – Cacao & Peanut Butter Bars.

Actress

Mini Mathur

"Snack time for kids got healthier. Preservative free, colour free, sugar free, refined flour free snack bars @thegrowinggiraffe"

Actress
WHEN IT COMES TO YOUR CHILD'S NOURISHMENT,ONLY THE BEST INGREDIENT WILL DO
Amaranth Cheese, Tomato & Spinach Crackers

TGG Cookies, Crackers & Nutrition Bars

Rucchita Agrawal Packs Her Child's School Tiffin

Janki Krishna Packs Her Child's School Tiffin

Amaranth Spinach Crackers

Quinoa and Almond Nutrition Bar

Cacao & Peanut Butter Nutrition Bar

How Harmful is 'Refined Sugar for Children

The Story of The Growing Giraffe